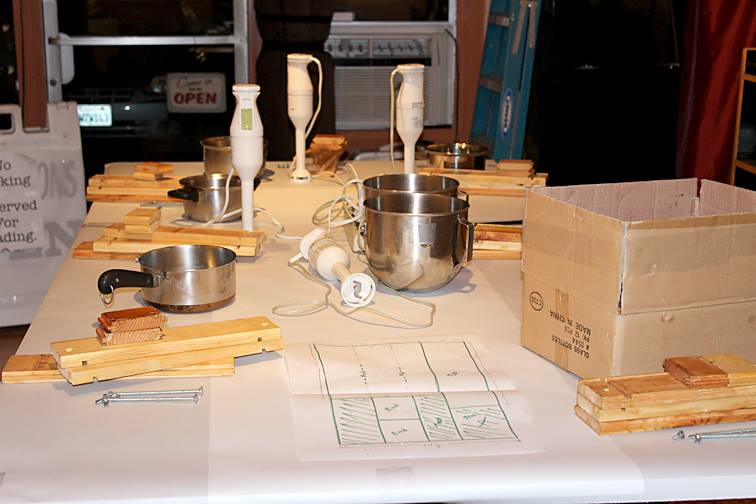 Garimo's Hands On Soap making Classes

New location for 2020 spring & summer class will be the classroom at the Santa Cruz Mountains Art Center at 9341 Mill St, Ben Lomond, CA 95005
Classes start promptly at 1 pm. and go to 5 pm. We have a lot of information to go over before making soap so please allow plenty of travel time.
The discussion will include the tools needed, chemistry of soap making, some environmental impacts of ingredients and production. (The palm oil Garimo uses has scored as the worlds most responsibly produced palm oil by Greenpeace) In Garimo's studio we do not use synthetic fragrances or colorants.
After the soap making introduction, Garimo will make a batch of peppermint soap while students watch... and then everyone makes a batch of soap.
When all is said and done, each student ends up with around 9-10 bars of soap that they made with the organic oils and natural ingredients.

Students will have the option of making their soap with *peppermint, *lemongrass, *lavender or *tea tree essential oil scents and there may be some others also available to choose. You're welcome to come to a farmers market and check out my soaps made with these scents.
Garimo will provide all the materials and supplies, you just need to wear some casual/craft clothes you won't mind getting a spot of oil on... not that you will, but you could.
After we've finished making our soap and it's in the loaf molds, then two to three days later we meet at my home studio on Hwy. 9 to remove from the molds and cut the bars. I'll explain more the day of the class. Soaps need to dry & cure for 3 to 4 weeks before use after cutting bars. You'll have the option to leave your soap to cure on my studio drying rack or take to dry at your home. If you are unavailable to return for cutting and pick up, we can arrange for postage and mail them to you when they're ready to use.
The class is limited to six participating students. A parent and child may form a team and work together. I don't set an age limit, but child needs to be able to weigh ingredients using a digital scale, use a ruler and scissors.
It's possible that if there are fewer than 5 registered participants the class will be canceled and fees will be transferred to another class or refunded.
Another idea is, if you want to get a group of six friends and take the class together we can work on scheduling a class. Email Garimo's Soap Studio and we can talk.
New Location for Soap Class!!!!
Santa Cruz Mountains Art Center, at 9341 Mill St, Ben Lomond, CA 95005
click here for information about the Santa Cruz Mountains Art Center
art center photo will go here
Click here for the directions.
The Art Center is handling class registrations. The fee for the class is $80 for SCMAC members and $100 for non-members. On the day of the class a material fee of $25.00 is required. (+ .73 processing fee for cards)
To register for the March 29th & May 10th class please follow instructions for "Adult Craft" here Registration Form
This will be my 7th year for teaching introductory soap making classes. You'll be able to read some reviews of my classes on my facebook page.




GARIMO'S REAL SOAP STUDIO
follow what's happening in the workshop