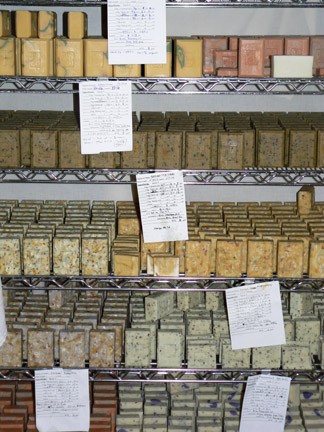 The saponified oils are blended with organic herbs, seeds and oats, green tea, wheatgrass powder, silk peptides - my only non vegan ingredient, lavender flowers, lemon peel, cocoa powder, clays and minerals and whatever else is good for our skin and looks like it might be fun. Some soaps are unscented, but the others have only pure steamed extracted essential oils from herbs, spices and flowers. No synthetic fragrances are used.
These Cold Processed soaps retain the natural glycerin. Sometimes the glycerin seperates in the soap and is visable as a clear swirl spiraling pattern. These are called glycerin rivers in the soaping world.
There are no artificial additives or toxic preservatives. The soaps contain Rosemary Oleoresin Extract as a protective anti-bacterial and anti-microbial.
The colorants are the herbs themselves or from mined natural clays while others are the refined iron oxides that have mineral impurities removed. Regardless, all ingredients in the soaps are listed on the labels, I do not use micas or dyes. Once the soaps are cut and stamped, they're stacked on the drying rack to cure at least a month or longer, usually six weeks. The final 10% of the saponification happens during the drying period
this page is a work in progress...